With many Shanghai residents abruptly receiving quarantine notices amid another COVID-19 outbreak, the city's animal lovers have started to crowdsource information on emergency pet care to prevent any possible tragedies.
Spare Leash, a pet-sitting platform headquartered in Shanghai, is among several service providers that has outlined tips for the city's pet parents in case of possible quarantine. The company said pet safety had become a valid concern after recent news of another pet being killed while the owners faced centralized quarantine.
Last week, a Samoyed dog named Snowball was beaten to death by quarantine staff in the southern city of Huizhou while owners were quarantined. A similar case in the eastern Jiangxi province sparked public outrage in November.
China currently doesn't have a standardized policy on handling pets whose owners test positive for COVID-19 or are quarantined for suspected infections. In the past years, various local authorities have announced their own rules, with the city of Beijing calling for "humanistic care and warm services" while isolating pets in February.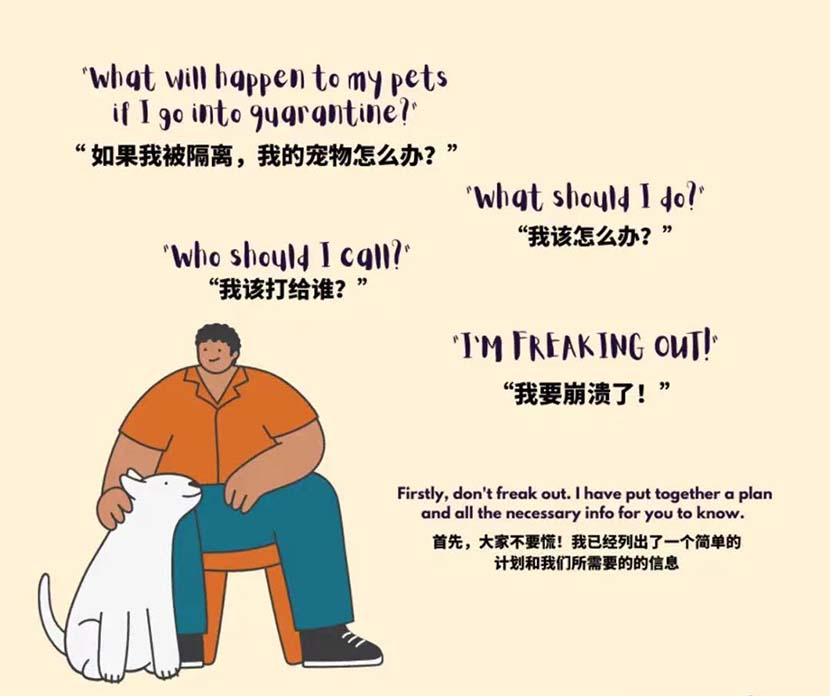 A poster from Spare Leash, a pet-sitting platform. From @Spare Leash on WeChat
With Shanghai reporting more than 300 COVID-19 local infections since the beginning of March, many people have found themselves in snap quarantines at homes, offices, and even malls. The city's Noble Pet Resorts said that they had received calls from many worried pet owners this week, seeking potential help if they were to be quarantined.
The owner of Noble Pet Resorts, who identified himself as Hunter, told Sixth Tone that he had rented two facilities capable of handling 10 animals each in the suburbs, offering them at reduced prices for people infected by the virus. He said he hadn't yet received any animals from quarantined pet owners, though some were already sending their pets out of caution. He also went to feed the cats of an individual who tested positive for the coronavirus Wednesday, after receiving a call.
"I'm doing this all by myself to lower the risk," he said, adding he wears protective clothing and undergoes a nucleic acid test every day.
BuddyDog, a pet hotel in Shanghai, has also received an outpouring of calls from pet parents, according to its manager, surnamed Zou. She said many of the company's recent callers were foreigners, with some afraid of a possible tragedy.
"What we do now is share experiences and offer professional advice, trying to relax the owners," Zou said. "They are over-panicked. Owners can just put the pets in carriers before they leave for quarantine. Then we go over, pick up the pets and sanitize all the items."
A 25-year-old pet owner, surnamed Li, said she has been anxious about her pet if she would be quarantined. She said she has joined a few chat groups on messaging platform WeChat, and is relying on crowdsourced information to prepare an emergency pack for her dog.
"We have to stick together and help each other," Li said. "We are fed up with news about pets being mistreated by quarantine staff."
Editor: Bibek Bhandari.
(Header image: A poster from Spare Leash, a pet-sitting platform. From @Spare Leash on WeChat )
†