Rebecca Braziel watched as the remains of a forest in Nahunta, Ga. smoldered in the aftermath of a 2012 wildfire that inched very close to her grandmother's house. She took in the sounds, smells and sights of a tragedy so fresh that it literally melted off the soles of her boots. It was in this moment that she found her voice as an artist.
click to enlarge
"It pushed me to look beyond myself and care about the larger issues at hand such as the importance of community, conservation and each of us trying our best to be a positive contribution to the world at large," explained Braziel.
That is the role of contemporary art, to mirror contemporary culture and society and that is precisely what multidisciplinary artist Braziel does with her work. Refusing to restrict herself to just one or two mediums, she instead chooses a constant combining of fibers, painting, sculpture, found objects and according to her, whatever else is a means to realizing an idea. These ideas in Braziel's work often challenge traditional boundaries and give voice to the larger issues at hand in a world with an ever-changing landscape both physically and culturally. She uses a dynamic combination of materials, methods and concepts to create an experience intended to strengthen the human connection to nature.
"My work is created in response to an experience," said Braziel
These sort of experiences, such as her visit to another large-scale wildfire that wiped out a majority of the state park in Bastrop, TX, began to inform a series of work called paper accumulation that allowed her to cope with the feelings of powerlessness that surrounded national and global issues through a means of deeply cathartic, repetitive processes. For Braziel, the texture created through these repetitive processes present in this series, and among other bodies of Braziel's work, draws the viewer to discover abstracted depictions of nature intended to reignite their connection to it. With the paper accumulation series in particular, the viewer can't help but be captivated by the rivulets of color meandering over layers of seemingly spontaneous texture. So captivating, in fact, that the Savannah College of Art and Design decided to wrap buses in Savannah and Atlanta with one of her works from paper accumulation titled, "In the Pines."
click to enlarge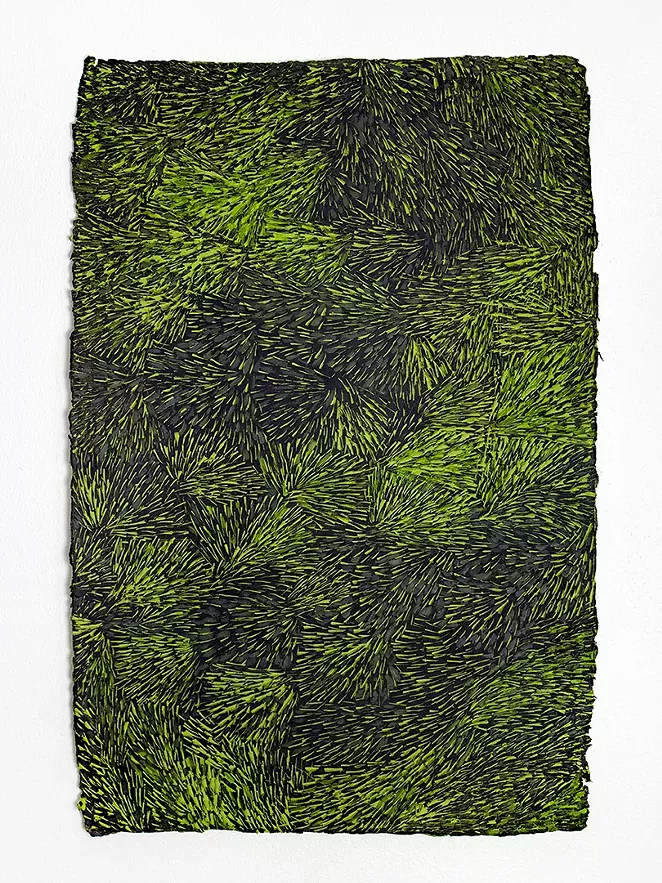 The SCAD buses are just a snippet of Braziel's success as an artist who has exhibited her work both nationally and internationally. Braziel graduated from SCAD with a BFA in 2008. After moving to Houston in 2013, she completed a six-month residency at the Houston Center for Contemporary Craft, acted as member of Box13 Artspace, received the Houston Individual Artist Grant, and exhibited at venues such as Lawndale Art Center, Galveston Art Center, Gray Contemporary Gallery, and the Museum of Fine Arts Houston.
In addition to her practice, Rebecca has extensive knowledge of art education through her previous position as Teaching Artist for the Museum of Fine Arts Houston as well as leading workshops and camps at the Houston Center for Contemporary Craft.
click to enlarge
In 2020 Rebecca returned to Savannah with her husband and four children and since her return, has acted as an Alumni Mentor for the SCAD Fibers Department and an ON:VIEW Artist in Residence at Sulfur Studios downtown.
"It is great to be back and see that southern hospitality is alive and well," said Braziel of her return to Savannah. "The art community here is filled with charming, talented people who are quick to share opportunity and connect."
Brazil still maintains strong relationships with the art community in Houston through the Houston Center for Contemporary Craft and Lawndale Arts Center having just sent a painting to be featured in Lawndale's 2022 Lending Library Program.
click to enlarge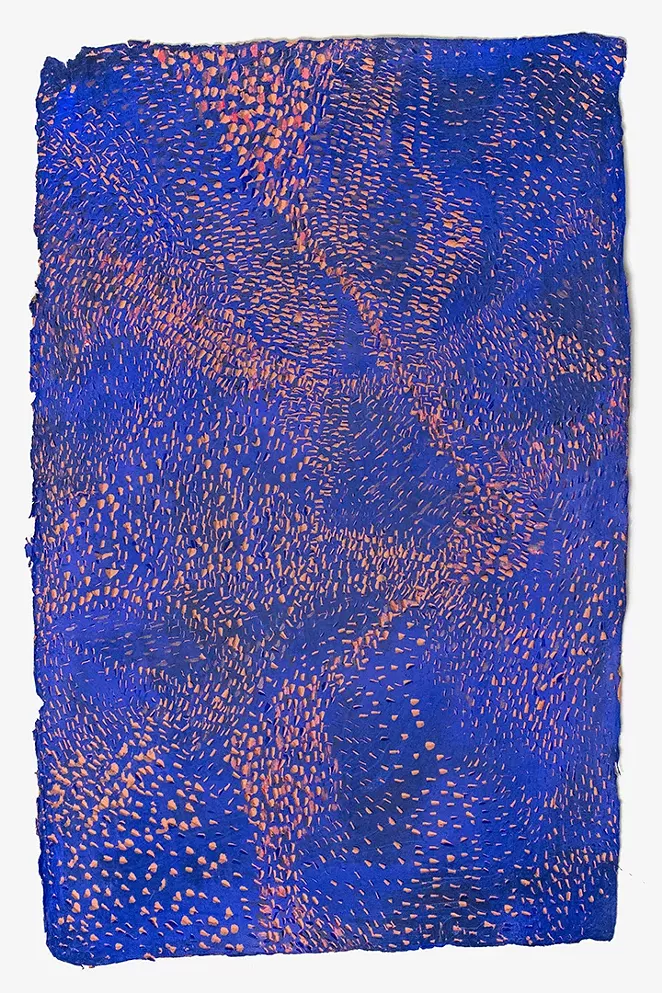 "As far as what's next, I am currently working on a number of commissioned pieces and committing more time to research," Braziel said. "Right now, I am learning about paper making processes, lichen, and the impacts of plastic use."
You can follow along on her journey by visiting her website at rebeccabraziel.com or her Instagram @RebeccaBraziel.
†