Hobbies
Pet of the Week: Meet Winston! | Features
Winston
If you're a fan of the St. Bernard, come meet Winston! He is 1-2 years old, but still a puppy at heart. Winston is a St. Bernard mixed breed and quite a big boy at 90lbs! He's a lovebug of a guy who could be your new BEST friend! Winston is friendly and smart, so any training would likely be fun and pretty easy. Please keep in mind that while he does love humans, he's not fond of other dogs at all. Therefore, Winston should be the only dog ​​in your home. He will need a large fenced yard and a human who would love to have BIG fun exercising with him regularly. His adoption fee is $150, plus $25 for an annual dog license, if you live in Jackson County. For more information or to schedule a time to meet him, please call the Jackson County Animal Shelter at 541-774-6654 and press 0 to be transferred to a staff person. Don't forget – the Jackson County Animal Shelter is open to view dogs without an appointments on the weekends from noon to 4 pm
Working Cats Program
We also wanted to make you aware of a very cool program at Jackson County Animal Services. The Working Cats Program seeks to find adoption placement for healthy adult cats that are not suitable for a traditional adoption due to social or behavioral reasons. Working cats provide a service to the community as pest and rodent control. Previously deemed 'unadoptable,' these cats now have an option of a positive live release outcome. Plus, adopting working cats saves lives! The shelter has successfully placed working cats in places like barns, farms, wineries, and so much more! Cats are usually adopted in groups of two or more, with a few exceptions. Keep in mind – these are unsocial cats who, mostly, cannot be handled by humans and may not benefit from attempts at socialization. However, they do benefit from the support and companionship of other cats in a 'work environment'. To learn more about the Working Cats Program, click here or email workingcats@fotas.org.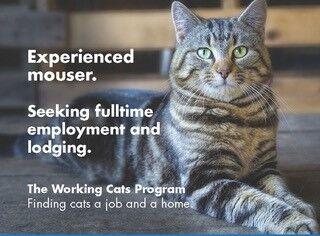 The Jackson County Animal Shelter is open Tuesday – Sunday 9 am to 4 pm Remember, to visit dogs on the weekend, you can now stop by without an appoint from noon to 4 pm Appointments are still required to visit with cats. To make an appointment, first browse adoptable animals online at fotas.org/adopt, then call 541-774-6654 and select Option 7 to be connected with a staff member.
Follow @KDRV12 on Facebook and @KDRV on Twitter for the latest news, sports, and weather in Southern Oregon and Northern California.
†