As readers may know, in my past life I served as marketing director for Hospice Savannah where a very minor, but very satisfying, part of my job was running the art gallery situated in the Hospice House inpatient unit.
In addition to brightening the environment for patients, families, and staff, the gallery served as a means for the public to overcome their fear or misconceptions about visiting a hospice and provided a small revenue stream.
One of my favorite aspects was seeing people fall in love with original art, buy it for the very first time, and hopefully, make a start on their own collections.
I was thinking about this recently, and about how some readers of this column may be intimidated by the art world in general, and by visiting galleries in particular.
I realized that subconsciously, part of my motivation in writing this column is to try to dispel those feelings of intimidation by introducing artists as 'regular' people, with interesting lives, who just want you to look at and enjoy their work without, necessarily, any pressure to buy.
Savannah abounds in non-gallery spaces which regularly display art, and certainly for those intimidated by entering a gallery, these businesses offer accessible and non-threatening venues in which to view work. One of these spaces is the busy Sentient Bean coffee shop, situated beside Brighter Day on the south side of Forsyth Park.
click to enlarge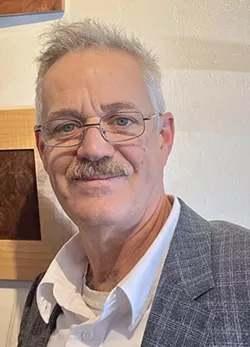 On a recent Sunday morning, I visit woodworker Jim Bailey at the Bean to discuss his current show on display beneath the shop's soaring wood ceilings. (Interestingly, this row of buildings, completed in 1914, originally served as stables for the Chatham Artillery, still a horse-drawn calvary at that time.
It was designed by Hyman Wallace Witcover, the Savannah architect of a plethora of over fifty fraternal, government, education and residential buildings including the Scottish Rite Temple on Madison Square, Savannah's City Hall, Sacred Heart Catholic Church on Bull, and the Savannah Public Library , also on Bull.)
Bailey recently relocated to Savannah from the wintry climes of Baltimore where he studied fine art at the Maryland Institute College of Art.
While he still paints and draws, it was the woodworking that he first learned in art school that has always interested him.
click to enlarge
He has made a living as a cabinet maker for the past 30 years, always drawn to visually interesting wood grain patterns and intriguing remnants of wood left over from commercial jobs.
Particularly, he likes splitting a piece of wood in half and, "when you open it, it creates something interesting, kind of like a Rorschach," referring, of course, to the famed inkblot psychological test, originally designed to help in the diagnosis of schizophrenia, "You can see different things in the grain. It could be a fish, or a gorilla, or whatever."
Arriving in September, Bailey quickly attained work at Gulfstream but found the exacting, production-line veneer work too repetitive and non-creative for his liking.
He now works for American Craftsman Renovation, a small residential general contractor. In the past, he created his art pieces by staying late at whatever shop he was employed with, but now, in the Savannah midtown home he shares with his girlfriend, he has been able to convert the garage into a woodworking studio and is actively acquiring the tools he needs to be self-sufficient.
In addition to the two-dimensional pieces on display at the Bean, Bailey makes custom furniture, three-dimensional art wall cabinets that open to display little drawers, and intriguing sculptures (he shows me an image of a tabletop-sized piece comprised of four -inch wood cubes).
The father of four children in Baltimore, with the youngest two set to graduate college shortly, Bailey hopes his move to the south will afford more opportunities to make his art. He certainly wasted no time in connecting with Alexis Javier ("AJ") Perez, one of the founding partners of Sulfur Studios. In addition to the busy galleries at 2301 Bull St., Sulfur is responsible for hanging art in several non-gallery spaces and AJ offered him the New Year show at the Sentient Bean.
In his appropriately named "Interpretive Woodworking" show, Bailey is displaying work from as early as 2000.
click to enlarge
"It's a bit of a retrospective," he says. In addition to the Rorschach Test-like pieces, he has two exquisitely mitered checkerboard pieces and some small, whimsical creations featuring found objects that he calls "just quirky and fun."
Bailey utilizes poplar, cherry, mahogany, and walnut, and most pieces have frames that are an integral part of the whole, often made from the same piece of wood that he used for the inside artwork.
So, grab a cup of coffee and check out this newcomer's creations, or, better yet, meet and welcome Bailey to the Savannah art scene at his reception on Friday, Feb. 25 at 6:00 pm
Jim Bailey's "Interpretive Woodworking" hangs at the Sentient Bean, 13 E. Park Ave., through March 15 and can be viewed during the coffee shop's regular hours of 7 am – 7 pm daily, with a reception on Friday, February 26 at 6 pm Find Bailey's pieces under the Exhibitions & Events tab at sulfurstudios.org or reach him at jamesfbailey64@gmail.com
†